Hidden foods and chronic symptoms – what's hiding in your holiday treats?
November 6, 2020 at 1:26 PM / by Dr. Andrea Gruszecki, ND
'Tis the season for dietary indiscretion. Between Halloween leftovers, Mom's famous Thanksgiving sweet potato casserole, and traditional December holiday treats, there are many opportunities for unexpected exposures to harmful food antigens….
The lifestyle changes required for patients with newly diagnosed food allergy or food sensitivity can be extremely challenging. Suddenly, there are foods that must be avoided in the diet for up to three months, while other foods must be rotated to minimize inflammatory reactions. Often, such diets require the use of fresh, single ingredients, cooked from scratch, to avoid hidden sources of antigenic foods such as dairy, soy, or wheat. It is rare to find prepared or processed foods that are compatible with an elimination/rotation diet, because such foods often use common allergens as ingredients.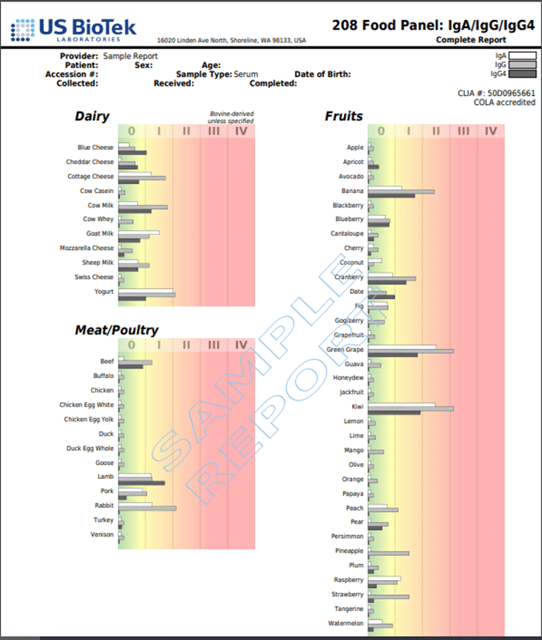 There are several problems that can occur if antigenic foods are eaten out of rotation or not removed from the diet completely. If the reaction is IgA-mediated, the indicated foods may be causing reaction directly at the gut lining; this can increase gut "leakiness" and increase IgG and IgE reactivity. If the reaction is IgG-mediated, then continued consumption of the food may prevent the symptom relief that is often experienced with a well-controlled elimination/rotation diet. If a true, IgE-mediated food allergy is present, then continued consumption of a food may eventually lead to life-threatening anaphylaxis. While not common, anaphylactic reactions can be serious and complete avoidance of such foods is usually recommended. The simultaneous evaluation of IgE and IgG4 may be useful, as IgG4 is a blocking antibody that protects against IgE reactions. While not foolproof, this protection is so well documented that higher levels of IgG4 are considered confirmation that desensitization therapies are working.
Careful label-reading, good detective work, and a better vocabulary of what ingredient names really mean is the key to successfully avoiding problem foods during the holidays and every day. In the United States, the Food and Drug Administration has mandated warning labelling for eight different food groups that are considered major allergens: milk, eggs, peanuts, tree nuts, soybeans, wheat, fish, and shellfish.
Read More: How Food Allergies and the Environment Collide
Download a copy of our Hidden Ingredients List here
Beware, however, of imported foods. The use of food products from outside the U.S. can be tricky, as different terms for common foods may be used in different countries, and allergy warnings, if mandated in other countries, may not include the same foods in their warnings as the United States. The major allergens are not universal; depending upon culture and genetics different foods may be considered "most common" in different parts of the world. In Europe, mustard and celery are common allergens, in India chickpeas and eggplant are common, while in Asian countries fish, eggs, wheat, and dust mites (which can infest wheat flour in warmer climates) are considered common allergens.
Individuals with food sensitivities should not be shy about self-caring behaviors such as about reading labels and asking servers (or the party host) about ingredients. Packing a safe snack or eating prior to a party can minimize the temptation to stray off the rotation diet, as can focusing on the real reason for holiday get-togethers: connecting with friends and family.
Read More: Food Sensitivities and Thanksgiving: 6 Delicious Swaps
Watch the webinar below for a complete overview on IgG food sensitivity testing.
---
References:
Faria A, Gomes-Santos A, Gonçalves J, Moreira T, Medeiros S, et al. Food components and the immune system: from tonic agents to allergens. Front Immunol. 2013;4: 102.
Hourihane JO, Knulst AC. Thresholds of allergenic proteins in foods. Toxicol Appl Pharmacol. 2005;207(2 Suppl):152-156.
James LK, Till SJ. Potential Mechanisms for IgG4 Inhibition of Immediate Hypersensitivity Reactions. Curr Allergy Asthma Rep. 2016 Mar;16(3):23.
Kim WJ, Choi IS, Kim CS, Lee JH, Kang HW. Relationship between serum IgA level and allergy/asthma. Korean J Intern Med. 2017;32(1):137-145.
Lee AJ, Thalayasingam M, Lee BW. Food allergy in Asia: how does it compare? Asia Pac Allergy. 2013;3(1):3-14.
Leong KW, Ding JL. The unexplored roles of human serum IgA. DNA Cell Biol. 2014;33(12):823-829.
Pastorello EA, Stocchi L, Pravettoni V, et al. Role of the elimination diet in adults with food allergy. J Allergy Clin Immunol. 1989;84(4 Pt 1):475-483.


Skypala IJ. Food-Induced Anaphylaxis: Role of Hidden Allergens and Cofactors. Front Immunol. 2019;10:673.


Smoldovskaya O, Feyzkhanova G, Voloshin S, et al. Allergen-specific IgE and IgG4 patterns among patients with different allergic diseases. World Allergy Organ J. 2018;11(1):35.

U.S. Food and Drug Administration (2009) Food Allergies: Reducing the Risks.

https://www.fda.gov/consumers/consumer-updates/food-allergies-reducing-risks

Accessed 27 August 2020.

Versluis A, Knulst AC, van Erp FC, et al. Reintroduction failure after negative food challenges in adults is common and mainly due to atypical symptoms. Clin Exp Allergy. 2020;50(4):479-486.
Virdee K, Musset J, Baral M, Cronin C, Langland J. Food-specific IgG Antibody-guided Elimination Diets Followed by Resolution of Asthma Symptoms and Reduction in Pharmacological Interventions in Two Patients: A Case Report. Glob Adv Health Med. 2015;4(1):62-66.