New Insights– Updates to our Organic Acids Profile and Guide
May 11, 2021 at 8:30 AM / by Dr. Andrea Gruszecki, ND
Organic Acids tests are great for providing an individualized overview of a patient's health but can be confusing and difficult for the uninitiated to interpret. US BioTek understands this and has created a new, comprehensive, evidence-based Interpretation Guide for its Organic Acids Profile (OAP).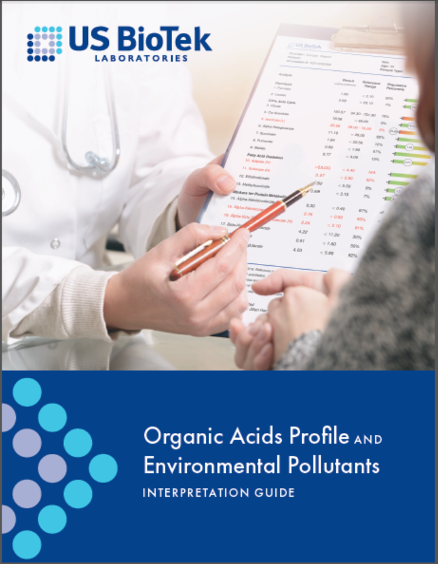 The new guide provides an overview of basic biochemistry and enzyme functions to enhance understanding of the results and also provides an introduction for each individual section of the test that further outlines pathway functions, health effects, and clinical pearls. Each analyte is reviewed separately and includes information about specific pathway supports, associated OAP analyte patterns, and health conditions likely to contribute to high or low values.
Since many US BioTek clinicians choose to simultaneously test for Organic Acids and Environmental Pollutants (EPP), the new guide includes an extended section on detoxification and specific nutritional support recommendations for each toxic chemical reported on the EPP. An evidence-based dosing recommendations chart is also included, to facilitate the design of support and detoxification protocols.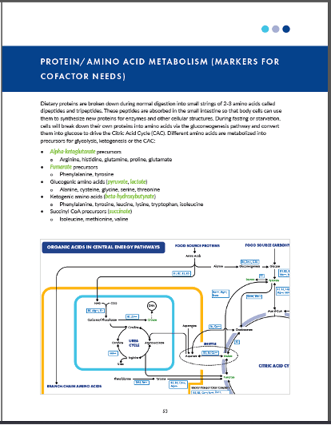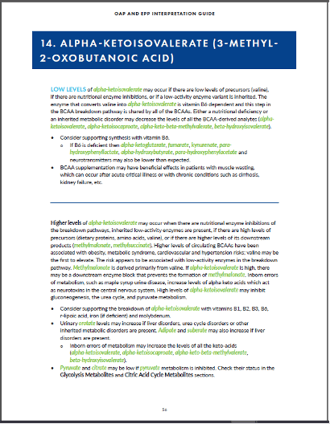 Organic Acids, reference ranges and preventative medicine
Urinary organic acids testing was originally developed to identify inborn errors of metabolism (IEMs), rare mutations with significant developmental effects that produce extreme elevations in specific biomarkers. While these established high-value cut-offs are crucial to alert us to potential disease in high-risk individuals, they provide much less guidance for functional clinicians screening for sub-clinical dysfunctions in the general population (illustrated below). Until recently, little attention has been paid to the possible health effects of low values in these same biomarkers.

To better understand the concerns about lower values on traditionally one-tailed (single cutoff) results, let's consider succinate for a moment. High levels of succinate indicate a problem with the ATP machinery of the mitochondrial electron transport chain and contribute to increased oxidative stress. Both high and low succinate levels may alter macrophage function, paracrine signaling, endocrine function, and epigenetic programming. In the example above, is a 12% succinate enough to get this patient through the day, when available "healthy" population studies place succinate near the 70th percentile? We need larger studies to fully answer the question, but with what we now know about population genetics, it is very likely that too low is just as problematic as too high.
A shift in consciousness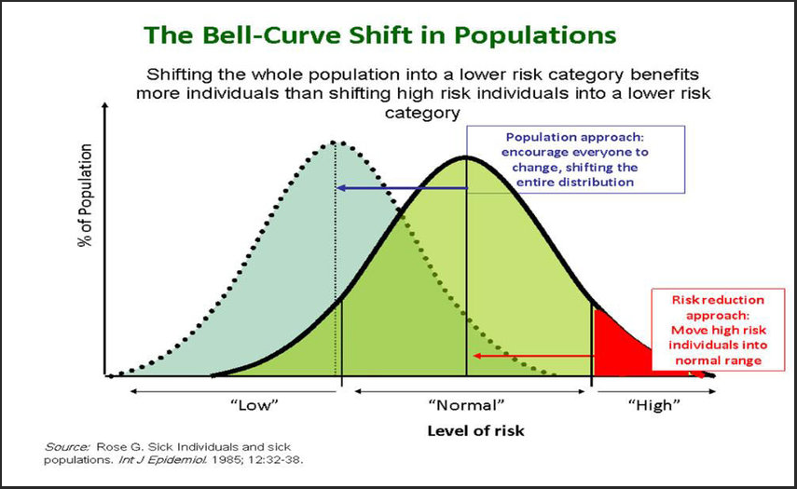 Over the past few decades, a shift in consciousness has occurred and many clinicians now practice in accordance with a preventative or functional medicine philosophy. Preventative/functional medicine is more closely aligned with the population risk-management philosophy illustrated above. Reference studies are being done to refine the use of organic acids as a screening tool for the general population, including a recent study in a "healthy" Greek population. The 112 subjects ranged in age from 21-81 (median age = 42) and only men and women with normal bloodwork (by conventional standards) and free of medications and supplements were included in the study. There were not dietary restrictions during the study.
The results below are surprising, until we remember that with a median age of 42 years, some of these individuals likely have subclinical dysregulation. In a population of 100 First World individuals 30% are likely to develop type II diabetes and 75% are at risk of developing a chronic disease.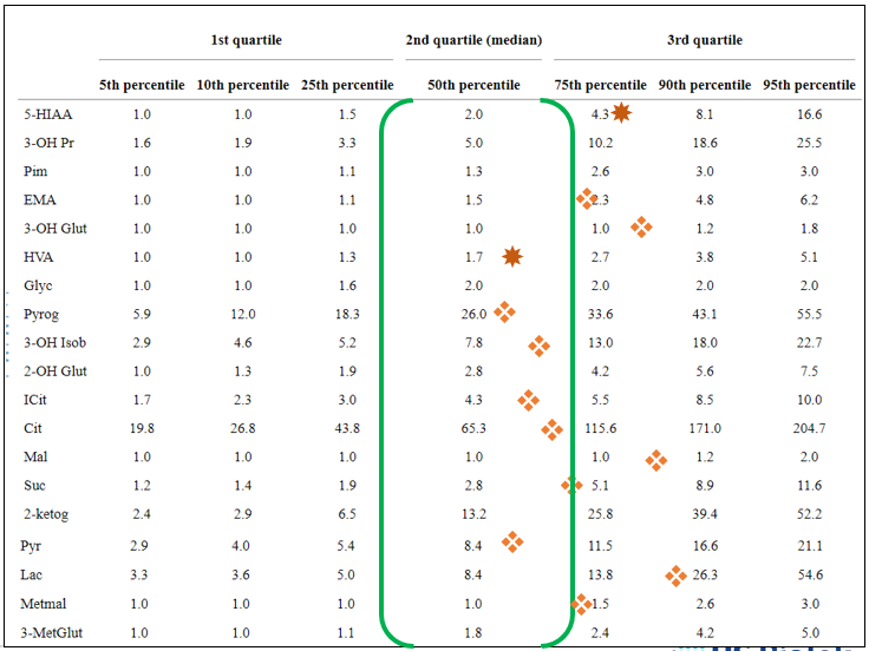 So, how do we resolve the dichotomy between the high-risk individual and population-risk philosophies? Functional medicine generally redefines "normal" as lab values between 30-70%, centering values at the 50th percentile (the top of a bell-shaped curve). If we do this, in the example above, we can clearly see that our "healthy" population has several biomarkers out of range already, increasing their overall disease risk!
Getting this population's biomarkers down to the 50% using diet, lifestyle and nutritional supports is likely to decrease any dysregulation, as well as their long-term disease risk. We can see from the sample report that values between the 40-50% (green dashed line below) integrate both risk philosophies and are in alignment with a functional assessment.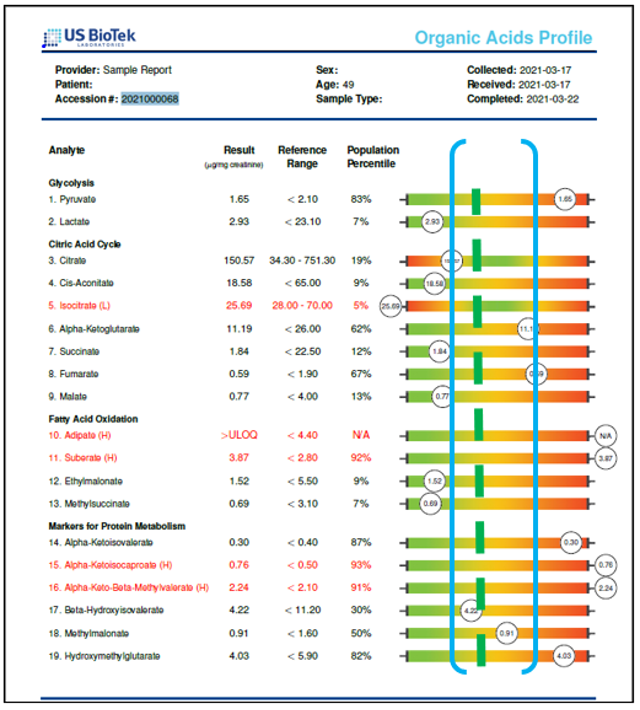 The new results format allows for interpretation by either the high-risk individual (color-coded bar graphs) or the preventative/functional population-risk philosophy (population percentile column). No matter what the patient's history and presentation, the new Organic Acids results format, combined with the new Interpretive Guide, can support clinical decisions and individualized interventions.
Since many clinicians choose to assess organic acids and chemical exposure simultaneously, US BioTek has also updated both the Environmental Pollutants Profile results report and the EPP Reference Guide. The EPP Reference Guide now contains detoxification guidance for each analyte, to guide those clinicians ordering stand-alone Environmental profiles. The updated Organic Acids Interpretive Guide also includes an extended section on detoxification and chemical exposure for clinicians ordering the two tests together.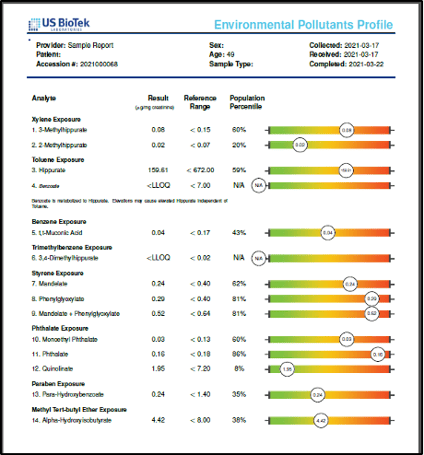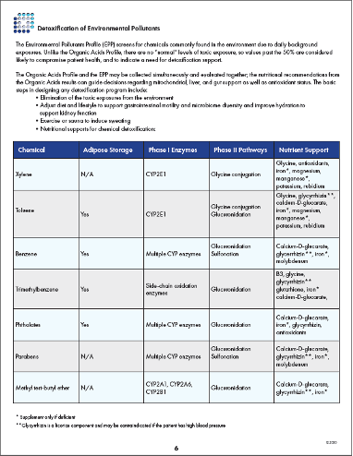 In conclusion
The US BioTek Organic Acids Interpretive Guide and the Environmental Pollutants Reference Guide have been updated with the best available evidence-based information. Join us on May 20th, 2021 for a webinar that overviews the use of these updated guides with a practical case study, and expect to receive Organic Acids Profile and Environmental Pollutants Profile results in the new report format starting May 21st.
---
References:
Ali A, Katz DL. Disease Prevention and Health Promotion: How Integrative Medicine Fits. Am J Prev Med. 2015 Nov;49(5 Suppl 3):S230-40.
Bland J. Functional Medicine: An Operating System for Integrative Medicine. Integr Med (Encinitas). 2015 Oct;14(5):18-20.
Camp KM, Krotoski D, Parisi MA, Gwinn KA, Cohen BH, Cox CS, Enns GM, Falk MJ, et al. Nutritional interventions in primary mitochondrial disorders: Developing an evidence base. Mol Genet Metab. 2016 Nov;119(3):187-206.
Martínez-Reyes, I., Chandel, N.S. Mitochondrial TCA cycle metabolites control physiology and disease. Nat Commun. 2020;11:102.
Schiff M, Bénit P, Coulibaly A, Loublier S, El-Khoury R, Rustin P. Mitochondrial response to controlled nutrition in health and disease. Nutr Rev. 2011 Feb;69(2):65-75.
Tretter L, Patocs A, Chinopoulos C. Succinate, an intermediate in metabolism, signal transduction, ROS, hypoxia, and tumorigenesis. Biochim Biophys Acta Bioenerg. 2016 Aug;1857(8):1086-1101.
Tsoukalas D, Alegakis A, Fragkiadaki P, et al. Application of metabolomics: Focus on the quantification of organic acids in healthy adults. Int J Mol Med. 2017;40(1):112-120.