Dried Blood Spot (DBS)
Collection Instructions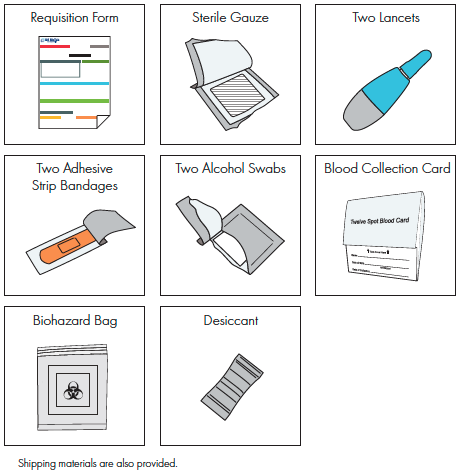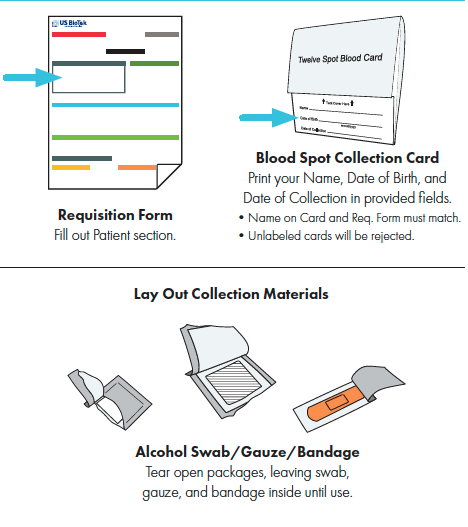 General Guidelines
Each blood collection card and lancet ar for one-time use only.

Avoid strong repetitive pressure ('milking') on the pricked finger. This may cause hemolysis or tissue-fluid contamination of the specimen.

Do not rub or smear the blood sample.

Air dry only.

Missing or incomplete information on the test requisition form will delay the processing time of your specimen.

Allow a sufficient quantity of blood to soak through to completely fill in the preprinted circle on the filter paper.
Important Information:
Filling more than the required number of spots is recommended if you have continued blood flow, ensuring ample specimen quantity for testing.
Make sure blood saturates through to the back of the card!
Drying
Air-dry completely. Prop the card up or leave taped on table and let air-dry for at least 3 hours. Keep away from moisture and sunlight.
It is important that the blood is not in contact with the cover.
Once fully dried, tuck the cover into flap as indicated. Insert the Blood Spot Collection Card into the biohazard bag containing the desiccant and seal tightly (each resealable bag holds a maximum of 5 cards).
Shipping
Shipping Within the US
Use the white first class prepaid envelope provided. Drop the envelope off at the US postal office or give to your mail carrier. The tracking number is located on the envelope for your convenience.
Washington, Alaska, Hawaii, Puerto Rico, & US Virgin Islands
Mail specimen via US Postal Service with the prepaid Priority Mail Envelope provided. The tracking number is located on the envelope for your convenience. A more immediate delivery is at the cost of the practitioner.
Use the shipping supplies provided with the test kit to return your sample.
Shipping From Canada
Shipping Contents Include:
• 1 Large Clinical Pak
•1 FedEx self-adhesive pouch with mailing label (attached to Clinical pak)
•2 Waybills (prepacked in Fed-ex pouch)
•1 commercial invoice (prepacked in Fed-ex pouch)
Place Crush proof Cardboard box inside FedEx Clinic Pak and seal.
Do not remove the enclosed waybills and commercial invoice from inside the self-adhesive fed-ex pouch.
Contact FedEx for pickup: 1.800.463.3339
Shipping Outside of US & Canada
Client is responsible for the shipping cost.
Need Assistance
If you have questions regarding the collection process or shipping instructions, please contact our customer support team.
Contact Support